The dream
The speculation of "Stamkos to Toronto" has died down a bit lately, but the dream remains alive for many Leafs fans. It will remain so until something definitive happens, be that the Lightning signing him, trading him, or someone finally snaps him up on July 1st when he becomes an unrestricted free agent.
Let's put aside whether or not going for Stamkos would be the best strategy for the Leafs. There is, of course, an argument that saving that money for their up-and-comers and sticking to the plan of building through the draft would be the wisest decision. But, I'd like to not get into that and focus on the "how".
How do you get Stamkos to Toronto?

Are you picturing dump trucks full of money? Perhaps recreating the "offer he can't refuse" scenes from the Godfather with Lou Lamiorello taking Marlon Brando's place?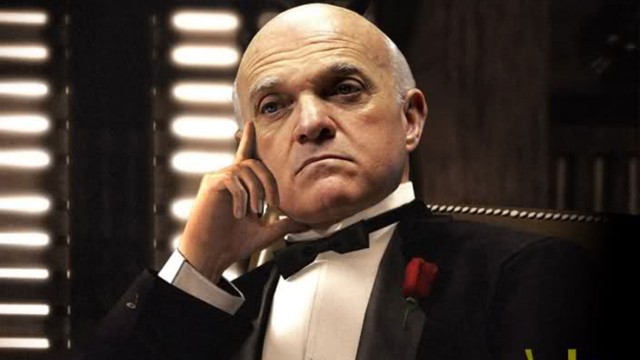 Lou as The Godfather. From: https://twitter.com/John_Grigg/status/624225124217188354
Joking aside, there are several legitimate strategies. I'm going to list the options, and then focus on one in particular that hasn't been talked about enough.
Offer him more salary than anyone else when he's a free agent
Trade for him from Tampa at the Trade Deadline
Offer him a package of other incentives (endorsements, coming home, Babcock) to get him for less money than others offered
Trade for him after the playoffs but before July 1st
Wait, after the playoffs? But, his contract is about to expire. Why would you want to give up assets if you can just sign him after July 1st?
This is the option I want to get into more detail on. Once the playoffs have ended, teams are allowed to trade again without restriction. So, Toronto could offer a small package of assets to get Stamkos on, say, June 26th. But... why?

The reasoning is two-fold.

First, if you trade for him, he's your unrestricted free agent, which allows you some extra options in contract negotiations. The maximum length for a contract is 8 years when extending a contract that already belongs to you (i.e. the very recent Kopitar signing in LA). However, when signing a contract on the open market, the maximum is 7 years (i.e. the painful memory of Clarkson signing in Toronto). An extra year on the contract has to be considered attractive to Stamkos, and might allow us to sign him at a lower salary cap hit for the extra year longer.

Second, if you trade for him, he's your unrestricted free agent. This allows you to talk to him without anyone else to make other offers. Getting a Stamkos deal done before July 1st comes and he hears a Calgary or Philadelphia make a crazy offer for him would be a huge advantage.

We've seen recent examples of this working and not working. Dan Boyle to NYI (didn't work), Carl Soderberg to COL (worked) (though I'm not sure I'd call Soderberg at $4.75M until 2020 a success), Halak to NYI (worked) and a couple others I'm forgetting.

Tampa Bay will be interested in this deal because at that point, July 26th, they're probably out on Stamkos. If he was going to sign there he would have by then. So this affords the Maple Leafs an interesting opportunity.

So there you have it. A simple and as-of-yet unexplored strategy for bringing Stamkos to Toronto. What do you think?